WHAT WE'VE DONE
Elite Wear
In 2018, AFAB was asked by the makers of Elite Wear to correct deficiencies in their product.
The fit of the glasses was not up to their standards and the electronic interference in their flashing glasses was causing feedback issues.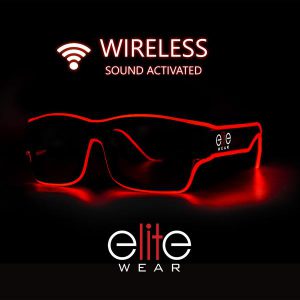 We first addressed the poor fit of the molds to injection mold the units. Using design software, we discovered the issues with how the molds were originally made and corrected them. After this correction, we were able to produce the molds for Elite Wear that eliminated the previous poorly fitted molded pieces.

Then the electronic feedback issue was addressed. AFAB examined the circuit boards and the overall design of the solid state configuration to see what could be done to correct the issue. We found the design issues and made additions to the circuitry so that the feedback issues were corrected.

Elite Wear was so impressed with our 3 month turnaround, that we then arranged manufacturing for them and even had the packaging made. From start to finish, Elite Wear had all the issues corrected and a newly designed product to sell in less than 6 months. AFAB was also able to lower Elite Wears cost of goods sold by 40%.
This is what AFAB does, over and over. We create!